Ek-Chuah
Ek Chuah (ek means "star" and chuah "black" in Yucatec Maya) is the principal Mayan god of merchants and the patron of cacao. Because the cacao bean was a valuable commodity, essential to Pre-Columbian commerce, Ek Chuah was a venerated deity for cacao farmers in southern Mexico and Central America.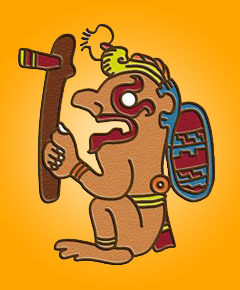 Family and Responsibility
The genesis for The Cacao Tree™ came from a personal connection to my family's agricultural history in Mexico, as well as the intention to create a socially responsible business that would link the richness and elegance of our desserts to the origins of the natural product itself – the cacao bean. That's why our treats are made with fair trade chocolate.
To truly appreciate fine quality chocolate is to appreciate the many factors that go into cultivating and processing cacao, most of which is done by small farmers in Latin America and western Africa. With this in mind, The Cacao Tree's goal is to bridge that production gap by working with fair trade cooperatives in Mexico (in the states of Tabasco and Chiapas) and Central America.
From Bean to Bar
I believe the richness of chocolate resides not only in its heavenly and irresistible taste, but in its history and culture - from the Mayan indians who first cultivated it to the modern day farmers who so meticulously harvest and process it. As an artisan chocolate maker and the final link in this incredible chain of production, it gives me great joy to create confections that preserve the quality and freshness of the chocolate, and that give innovative expression to this wonderful food. I hope you will enjoy our products as much as I enjoy creating them for you!
¡Provecho!
Sandra Escobar
Chocolatier