To order, please use the form to the right. Pictures and descriptions can be viewed on the confections page. more photos here-facebook login required Simply choose the delicious confections you desire and click on the "add to cart" button to proceed to your paypal online shopping cart! If you are not registered with paypal, you will need to do so when you checkout. It's free to register! Please allow five to seven days to process your order. To preserve freshness, all shipments are made via priority mail. Some pastries and baked confections will be delivered locally. LISTED PRICES DO NOT INCLUDE SHIPPING/DELIVERY COSTS
Feel free to email us if you have any questions or comments at thecacaotree.com. Don't forget to try our Chocolate of the Month Club! Thank you and enjoy!
Truffles
Our chocolate truffles are handmade in small batches to ensure they are always fresh. As such, we recommend they be kept in a cool and dry place, and are eaten within a few days after receiving them. Given their rich and delicious taste, they won't last long anyway!
We will select from the truffles listed on the confections page. Assortment selections will vary depending on the availability of some seasonal ingredients. Please let us know if you have any food allergies, so we can make sure not to include truffles with those ingredients.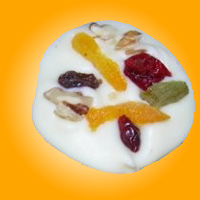 Assortment of eight truffles $16
Assortment of twelve truffles $24
Other Cacao and Special Occasion Confections
Pumpkin Spiced Toffee $24.80 per lb.- a favorite! - infused with aromatic spices of the season and topped with vibrant green "pepitas" (pumpkin seeds)
Peanut Butter Chocolate Toffee $23 per lb. - So decadent!
English Toffee $22 per lb. - Our Best Seller!
Alfajores (al-pha-hor-is) - South American shortbread cookies filled w/dulce de leche made from scratch $14 per dozen
Fancy Dark Chocolate Turtles - $26.50 per dozen
Mediants (chocolate "coins" colorfully topped w/a variety of dried fruits and nuts) - $25 per dozen
Mini Gourmet S'mores - $15 per half pound
Pecan caramel tartlets (available for local DC/VA/MD delivery only) - $42 per dozen
Incredible fresh spice apple tartlets (available for local DC/VA/MD delivery only) - $42 per dozen
Elegant Cupcakes - choice of beautifully decorated pumpkin pecan, carrot, strawberry basil, pineapple coconut, or double chocolate brownie cupcakes (available for local DC/VA/MD delivery only) - $45 per 2 dozens (minimum order) INDICATE CHOICE WHEN PLACING ORDER UNDER NOTES.